Frederick News Post 2/26/2012
Saving the cemetery
Project documents county's early African-Americans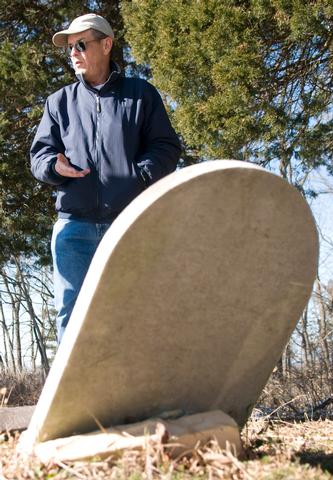 By Karen Gardner
News-Post Staff
LIBERTYTOWN -- The cemeteries Rick Smith wants to document are slowly but surely dying.
The African-American burial grounds of Frederick County are weathering away. Lettering on the gravestones is fading and the stones themselves are sinking into the ground.
"It's pretty typical of black cemeteries, which is what I study," Smith said on a recent winter afternoon at the Mount Olive Methodist Episcopal Church Cemetery, located off Md. 31 between Libertytown and Union Bridge. Most of these old cemeteries have few, if any, written records, he said.
Smith, 67, is a chemistry professor and chemistry department chairman at McDaniel College in Westminster. He's also keenly interested in genealogy. His goal is to document the names of all those buried in Frederick County's African-American cemeteries. He knows of 16 of these cemeteries. He began the project in July at the Keys Chapel Cemetery near Libertytown, and progressed to Mount Olive Cemetery a few miles away.
Only the cemetery remains at Mount Olive. The materials in the old log church have long since been hauled off to use in other building projects. Markers are scattered around the one-acre churchyard, with yucca plants growing between some of the markers and trees growing in between others. One marker actually pokes out of a tree trunk that grew around the marker.
The Mount Olive Church was built around 1850, when former slaves Antony and Mary Jackson, who owned a small farm, sold a one-acre plot for use as a church. The churchyard is now located on a deeply rutted dirt road off Md. 31 and surrounded by farmland.
"These people were mostly farmers and laborers," Smith said. "I've always been interested in family histories. I'm from a blue-collar background, and I'm interested in the people nobody's interested in.
"My grandparents are very important to me, and so are these people to somebody. Most of them were common laborers." His own ancestors were craftsmen and factory workers.
Many of the descendants of those buried here didn't have the money to maintain the churches and cemeteries, and over the years, the oldest cemeteries have fallen into disrepair. Mount Olive Cemetery is regularly mowed, but vandals have knocked some of the tombstones off their foundations.
Smith first became interested in African-American cemeteries in Chincoteague, Va., where he and his wife have a summer home. He discovered there that slaves and free blacks, referred to as freedmen, accounted for nearly half the local population of Accomack County, Va., from 1810 to 1850, and yet there were few written records acknowledging their presence.
Smith decided that his Accomack County research, and now his Frederick County research, would focus on 18th- and 19th-century African-American genealogy. He depends on sketchy records and old cemeteries to fill in the puzzle of who lived where and when. Still, he verifies whatever he can, approaching his historical research with scientific accuracy.
Slaves were sometimes mentioned in the deeds or wills of large landowners. Smith also uses church, school and cemetery records. He discovered maps from 1858 and 1873 showing 16 African-American churches in Frederick County, along with schools and cemeteries.
"They're not equally spread all over the county," he said. "If you drew a line from New Windsor to Knoxville, they would almost all be below that line." Most of the county's early slaveholders were of English descent and lived predominantly in the southern and eastern parts of the county. When the slaves were freed, most didn't travel far.
"These communities are the remnants of slave communities," Smith said. "In some cases, they were buried less than a half-mile from where they lived as slaves." After the Civil War, many former slaves went to work as laborers on the same farms slaves had worked before the war.
The cemeteries, where many of these people were buried, came to be known as Southern folk cemeteries. They were characterized by Eastern red cedar trees. This tree became known as the cemetery tree.
Mount Olive Cemetery contains at least a half-dozen of these giant, spreading cedars. Although other cedars have grown up in recent decades, the old cedars tower above the cemetery.
Saving the cemetery
"When we document a cemetery, we have the 'do no harm' rule," Smith said. He will prop up a fallen tombstone, as long as he has permission from the descendants.
The Mount Olive cemetery has a few modern tombstones. Smith thinks the last person buried in the cemetery was in about 2000.
Before going on any cemetery property, Smith gets permission from church trustees. The Strawbridge United Methodist Church, of New Windsor, owns Mount Olive Cemetery and has the church records. Smith went through those records to see what was already documented.
Once at the cemetery, Smith uses flour to bring out the outlines of faded letters on tombstones. When the flour dust is brushed away, flour remains in the crevices and often can make what seems like illegible markings clear.
Smith has been working in Frederick County's black cemeteries since July. He started recording names in Keys Chapel Cemetery, and verified about one quarter of them with newspaper obituaries. Smith is aided by a few students from McDaniel College who are receiving college credit for their work.
In October, Smith and his students began working on Mount Olive Cemetery, and that work is just about completed. He's now collecting obituaries, which often involves reading through microfilm at libraries. He also combs court records to get information on those buried. "Slaves were required to register with county clerks and carry papers," he said.
In Virginia, freedmen also registered. "There are manumission documents," he said. These were issued to freed slaves. Freedmen in Maryland were not required to register, however.
All this information helps Smith compile a little bit about each person buried. "The names need to be abstracted and put into a searchable database," he said. Information will go a long way toward preserving these fading cemeteries, he said.
Painstaking research
"It's a slow process," Smith said. He does what research he can on his home computer. Obituaries, deeds and wills help piece together the details of the people whose names are carved on the gravestones.
"Most people here don't know beyond their grandparents," he said. Yet, he added, "Most African-American lineages go back at least as deep as those of whites. They've got deep roots in this country." The legal importation of slaves into the United States stopped in 1793.
Some of the churches also had schools. That was true of Keys Chapel and the John Wesley Church and Cemetery in Libertytown. School enrollment records may provide clues.
Churches are the best resource for African-American history, however. "The heart of the community was the church in the 18th and 19th centuries," Smith said. "Look at all the stories buried in this cemetery. I start with the cemetery. It gives you a list of names."
The original deed to the church property gives more clues to the community. Slave owners filed documents with county governments listing the names of their slaves. Smith has a 70-page document he must transcribe.
The names in Mount Olive Cemetery keep repeating: Key, Jackson, Harp, Brown, Sanders. Some bear the same names as their former white slave owners. Hagar Key is the mother of Mary Key, and Mary's husband was Asbury Lewis. All were buried at Mount Olive in the latter part of the 19th century.
There are four men who served in the Union Army buried in the cemetery. Three served as slaves alongside their owners. One traveled to Connecticut and enlisted with a unit there.
Much more recently, a woman named Hattie Hill was buried in the cemetery. A plastic flower bouquet next to the marker indicates relatives visited recently.
"It's hard for a white person to tap into what it was like for a slave from the 1800s," Smith said. "I try to tap back into my own roots. I was from a working-class family, and I found myself in a university setting." He was different from the other students and knew what it felt like to stand out.
No one has undertaken a complete documentation of the people buried in these cemeteries, and Smith hopes to complete the project, with the help of students and anyone who would like to volunteer.
"Every one of these people has an interesting story to tell," Smith said. He hopes to be able to tell those stories.
© 2012 Frederick News-Post. All rights reserved.